Murray W. Key Words Peter and Jane. 10c. Learning is Fun
Описание:
With 90 million copies sold worldwide, Key Words with Peter and Jane is the springboard to reading for life. 100 Key Words make up half of all those we read and write. This essential vocabulary is carefully introduced, practised and developed throughout the scheme.
Book 12b explores Peter and Janes mountain adventure in 131 new words, including goodbye, suggested, clouds and discussed. Once this book has been completed, the child moves on to book 12c. The Key Words with Peter and Jane books work because each of the key words is introduced gradually and repeated frequently. This builds confidence in children when they recognise these key words on sight (also known as the look and say method of learning). Examples of key words are: the, one, two, he. There are 12 levels, each with 3 books: a, b, and c. Series a: Gradually introduces new words. Series b: Provides further practise of words featured in the a series. Series c: Links reading with writing and phonics. All the words that have been introduced in each a and b book are also reinforced in the c books.

The ideal first book for toddlers to introduce everyday words - packed with colourful images and clear word-labels to encourage early learningHelp your toddler learn their all important first words with My First Words. With 16-pages of colourful, bright photographs alongside clear word-labels your little one will begin to recognise common everyday words. Each page introduces a new area including the kitchen, bedroom, the park and more, highlighting the key words with a bright image. Straightforward and clear My First Words fully engages your toddler to keep early learning simple. Perfect for encouraging children to build vocabulary and language skills My First Words helps toddlers grasp early concepts. Your little one will love discovering words and language while holding the chunky pages of this tactile board book. Read it together and help them turn the pages and learn their first words.

Kate and the Crocodile. Read With Me 5. Using a controlled vocabulary in a series of graded steps, reading schemes offer a structured approach to teach a beginner reader. The Ladybird Read with me reading scheme adopts the look-say method, introducing learners to the 300 most frequently used words in the English language (Key Words). Pronunciation and meaning are learned through gradual introduction and careful repetition. Key Words are always carried over to the next book in the series.

With over 200 words to find and learn, this bumper lift-the-flap book is a great introduction to key first words. Colourful artwork from Fhiona Galloway explores the world, from nature to the playground and vehicles to the home, and children will have endless fun learning to read with My Little World.

Objective Key offers students complete, official preparation for the Cambridge English: Key (KET) exam. Short units offer a variety of lively topics while providing training in exam skills and solid language development. Key words sections informed by English Profile, highlight the words and meanings A2-level students need to master. Spelling Spots and Grammar Extra boxes, informed by the Cambridge English Corpus, provide help with language points that Key students can find difficult. Regular Exam folders and Writing folders provide systematic exam preparation and practice. The CD-ROM provides activities and games for practice of the target language. A Testbank access code for four online Cambridge English: Key practice tests is included with this Students Book.

This fantastic pack includes the Usborne First Thousand Words in Spanish wordbook, a sticker dictionary, 500 stickers, 50 flashcards and a CD pronunciation guide. Usborne First Thousand Words in Spanish is a bright, lively thematic wordbook with 1000 Spanish words illustrated in colourful scenes. The sticker dictionary contains alphabetical entries for 500 key Spanish words, with a place to stick the sticker and write the definition for each word. Readers can listen to all the words read by a native Spanish speaker at the Usborne Quicklinks Website.

A Barrons best-seller for more than five decades! This brand-new edition of 1100 Words You Need to Know has been expanded and updated, and includes: Word lists and definitions Analogy exercises Words-in-context exercises Idiom indexes An updated Pronunciation Guide All new words for students to learn are placed in the context of sentences that have been selected from well-known novels, plays, poems, newspaper editorials, and TV broadcasts. For optimal ease and enjoyment in learning, the authors recommend 15-minute sessions with this book. Over the years, thousands of students preparing for the SAT and ACT have relied on previous editions of 1100 Words You Need to Know as an ideal way to strengthen their word power. A new feature in this edition is indexes of idioms, which appear throughout the book.

Vocabulary practice is critical for success on the SAT, and these vocabulary flashcards provide you with an easy, efficient and portable way to prepare for the verbal section of the exam. This box of SAT flashcards includes 500 vocabulary words, with definitions and examples of each word used in context. It also includes 50 bonus customizable flashcards, so you can enter in words that you personally need to practice the most, as well as a unique divider that helps you keep track of your progress as you learn and perfect new SAT words Essential SAT Vocabulary includes words from the Princeton Reviews famous Hit Parade of vocabulary most likely to appear on the SAT. Start your practice today with key words from the test prep experts and raise your SAT score!
Key words with Ladybird 3a. Things we like [PDF] - Все для студента
13 мар 2013 ... Written by W. Murray. Ladybird Books, 2012. 52 p. With 90 million copies sold worldwide, the Key Words with Ladybird reading scheme is the ...
"Key Words: 12b Mountain Adventure" W Murray: рецензии и ...
14 июн 2019 ... Интересные рецензии пользователей на книгу Key Words: 12b Mountain Adventure W. Murray: Книга британского издательства Ladybird ...
Ladybirds Key Words All books Download for free pdf
Ladybirds Key Words All book In English for Kids Download for free. ... автор ( author): William Murray, Joe McNally ... The Key Words Reading Scheme by Ladybird - is a series of 36 English language early readers children's books, published ...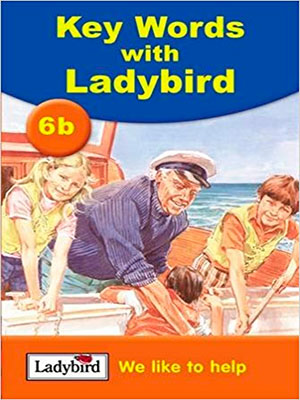 vintage summer scene - | DIY Inspiration in 2019 | Винтажные вещи ...
... An illustration from - Happy Holiday - The Ladybird Key Words Reading Scheme (The Peter and Jane Books). By William Murray; illustrated by J H Wingfield.
The Age of Uncertainty: The Idyllic World of Peter and Jane | Все и ...
An illustration from 7a - Happy Holiday - The Ladybird Key Words Reading Scheme (The Peter and Jane Books). By William Murray; illustrated by J H Wingfield.
Купить книги от «Ladybird Books Ltd» — интернет-магазин OZON.ru
12C: The Open Door to Reading | Murray William Ladybird, W. Murray. В корзину ... Key Words: 10c: Learning is Fun | Murray William W. Murray. В корзину.
The biology of Cricotopus (Nostococladius) lygropis Ashe et Murray
13 мар 2016 ... Key words: Diptera, Chironomidae, Orthocladiinae, Cricotopus (Nostococladius) ... lygropis Ashe et Murray с цианобактериями Nostoc verru-.
Lucky dip - карибская книга для начинающих читать - Книги для ...
1 фев 2017 ... A key words reading scheme written by W. Murray. Book 1. Автор: W.Murray; Издательство: Ladybird Books; Иллюстратор: Martin Aitchison ...
Ken Murray Shooting Stars — трейлеры, даты премьер ...
Ken Murray Shooting Stars (1979) — Ken Murray Shooting Stars. Всё о фильме: дата выхода, трейлеры, фото, актеры. Отзывы зрителей и ...
KEY WORDS FOR FLUENCY/"Ключевые слова для беглого языка" - это новая ..... учебного пособия Murray Bromberg and Melvin Gordon's "1100 Words You ...